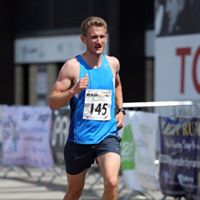 Hello, I'm Chris: personal trainer, sports therapist, diet mentor, healthy-living advocate, tennis enthusiast, marathon runner and all-round wellbeing fanatic.
My mission statement is very simple: I want you to feel good about yourself.
I want you to feel empowered to make healthy choices, to be proud of yourself, to feel more confident - but ultimately I just want you to wake up every day to that euphoric, irrepressible, anything-is-possible feeling. Because that's true - anything is possible.
I specialise in weight loss and injury rehabilitation and I'm really passionate about both. If your focus is weight loss, I aim to provide so much more than a fitness session - with me, guidance, encouragement, goal-setting, problem-solving, advice and feedback come as standard, and my clients feel supported day in, day out. I'll equip you with the tools you need and I"ll keep you accountable - that's a promise.
As a qualified Sports Therapist, I'm used to dealing with even the most stubborn of sport-related injuries. I can identify how your injuries have occurred, devise a comprehensive rehabilitation programme and guide you through some prevention strategies to help you banish the problem once and for all.
I'm a firm believer that exercise and a healthy, balanced diet doesn't need to feel like a chore; it can be your new normal. Bit by bit, you can make little changes and feel the difference. You'll form new habits. You'll change your thinking. And with that, you'll change your body.